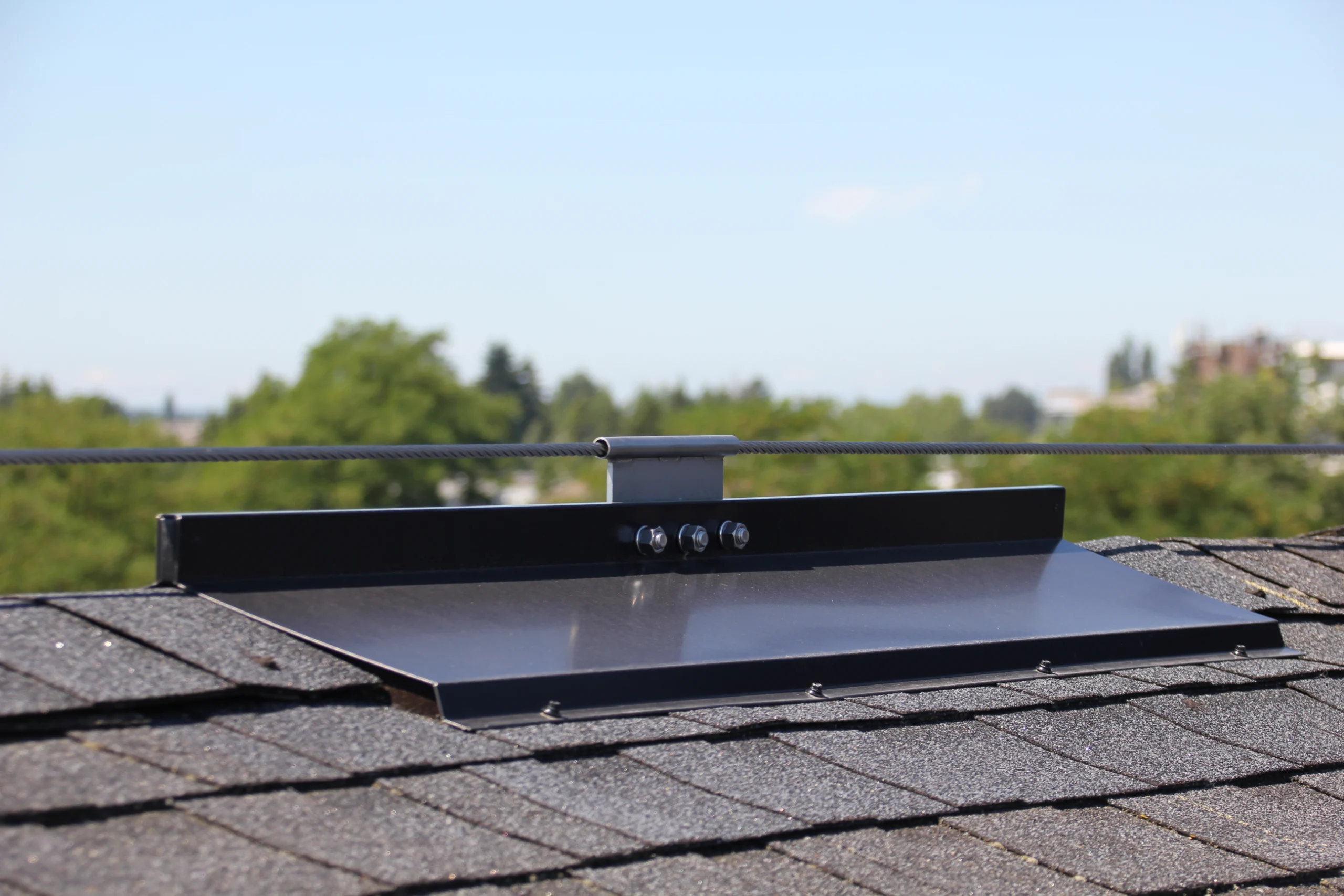 Specializing in the consultation, design, building, and maintenance of fall protection and access systems since 2011
Rationale
Provide safe, thoughtful, compliant solutions that minimize downtime, costs and building envelope penetrations.
Commitment
We pride ourselves on completing all work in a safe, professional, and courteous manner.
Mission
To complete high-quality work in the best interest of both the client and the end-user.
---
We are proud to offer services for single-family, multi-family residential as well as commercial, high-rise, institutional and industrial applications in the provinces of British Columbia, Alberta, and the Yukon territory; from supply-only to turnkey custom solutions for new construction and retrofit projects.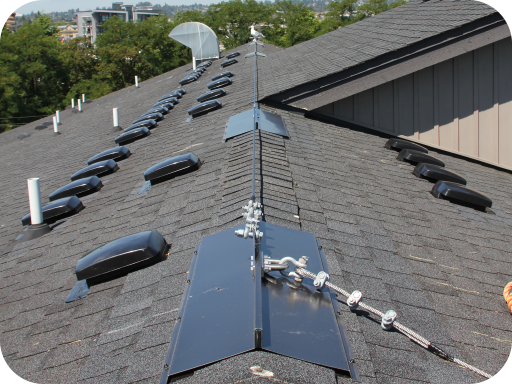 A Slope Safe™ product
Engineered, permanent fall protection for sloped roof wood truss roofs is now possible, with the Slope Safe™ ridge-mounted modular system. The Slope Safe™ versatile system allows for different module attachments to suit your building needs, including; cable system (horizontal lifelines), anchor points, and permanent vertical lifelines. All modules include an integrated flashing system and can be load tested to the 2500lbs (11.1kN) to meet engineering and CSA requirements. The modules can be installed from the roof surface without additional reinforcing and can be used with shingles, SBS or TPO roof systems.
Counterweighted & fastened
Building owners and managers prefer non-penetrating guardrails for their flat roof fall protection. Permanent non-penetrating or counterweighted guardrails preserve the integrity of the building envelope and reduce or eliminate roofing, engineering, and installation costs. Whether a guardrail is counterweighted or is mechanically fastened, we can supply or design-build your permanent guardrail to meet provincial OHS requirements and CSA259.18 standards.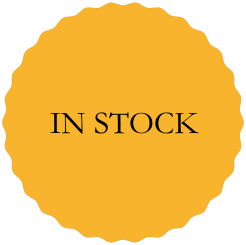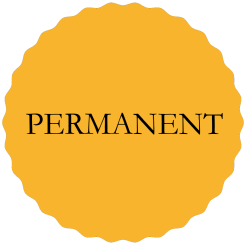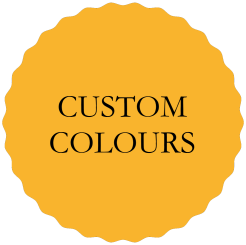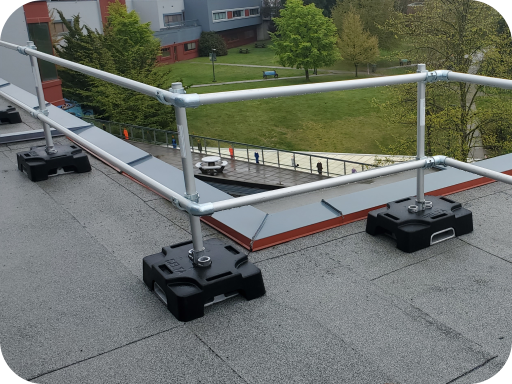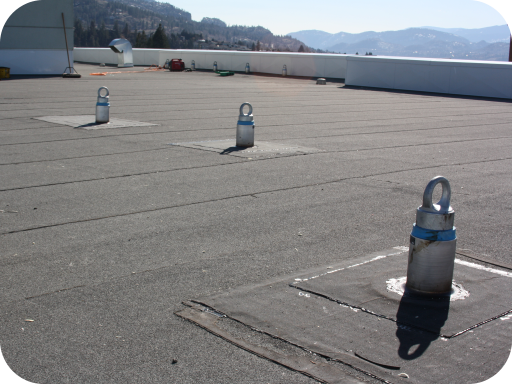 Anchors, cable systems and davits
Whether you are using an anchor for worker or swing stage suspension or travel restraint, anchors are fundamental components in fall protection. Anchors must be designed and installed correctly in order to prevent injury to a worker at heights. Cable systems or horizontal lifelines (HLL) are ideal solutions when continuous worker coverage is required. Davit systems are an ideal solution to protect and maintain your building.
Non-penetrating hatch guard, ladder port, skylight guard
Hatches and skylights are common roof openings that are generally an overlooked fall hazard. With either the clamp-on or counterweighted style, these kits can protect workers adjacent to a skylight or while entering, exiting, and hoisting at the roof hatch.
For areas that are accessible by extension ladder, the ladder port can be mounted to a flat roof or parapet wall giving workers the stability they need to safely climb the ladder without providing an access point for unauthorized access.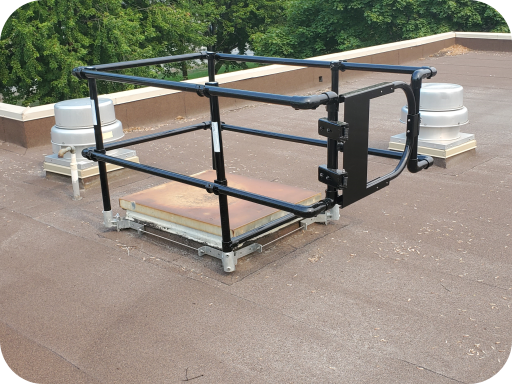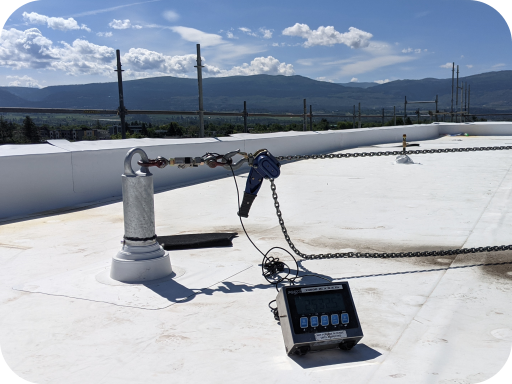 Inspections, certifications, load testing
Our ultimate goal is to make sure all your fall protection components meet or exceed all applicable codes and are fully certified for safe use. In order to ensure the safe and compliant use of your fall protection components, they must be inspected and certified at intervals not exceeding 12 months. We inspect, load test, and provide the required engineering review to certify your fall protection system so that workers are safe and owners can have compliant systems with reduced liability.
Permanent ladders, crossover stairs, rigid rails, custom anchor solutions
Fall safety solutions require specialized designers, installers and engineers. Using our in-house drafting and design team, and preferred fall protection structural engineers; we ensure your project has the correct components to provide the required safety to workers in a variety of situations. Whether you need safe access to work locations using ladders and stairs or to provide increased safety while performing the work using rails or custom anchors, we provide fall safety code compliant solutions to owners and managers to mitigate or eliminate unsafe working conditions.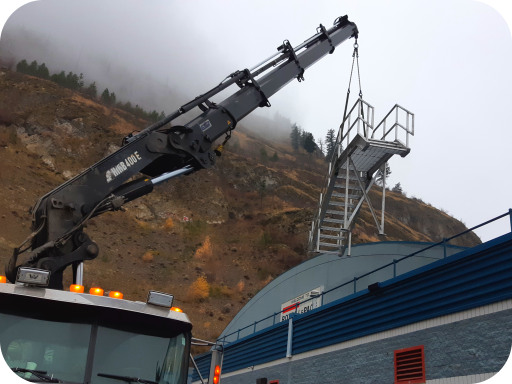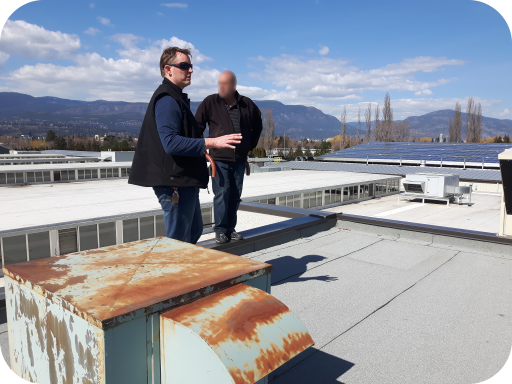 Hazard assessments, design, liability reduction
Prevention is the best solution in the fall protection industry. Thorough discussions with the required stakeholders, consultants, roofers, workers, and owners ensures the clients are provided with cost-effective services that best meet their needs, reduce or eliminate liability exposure, and provide the end-user with a practical safety solution. Fall protection is not just about roof safety, suspended access equipment, or façade maintenance – if you have an atrium or mezzanine in your building WCB OHS (WorkSafe) safety regulations also apply.
---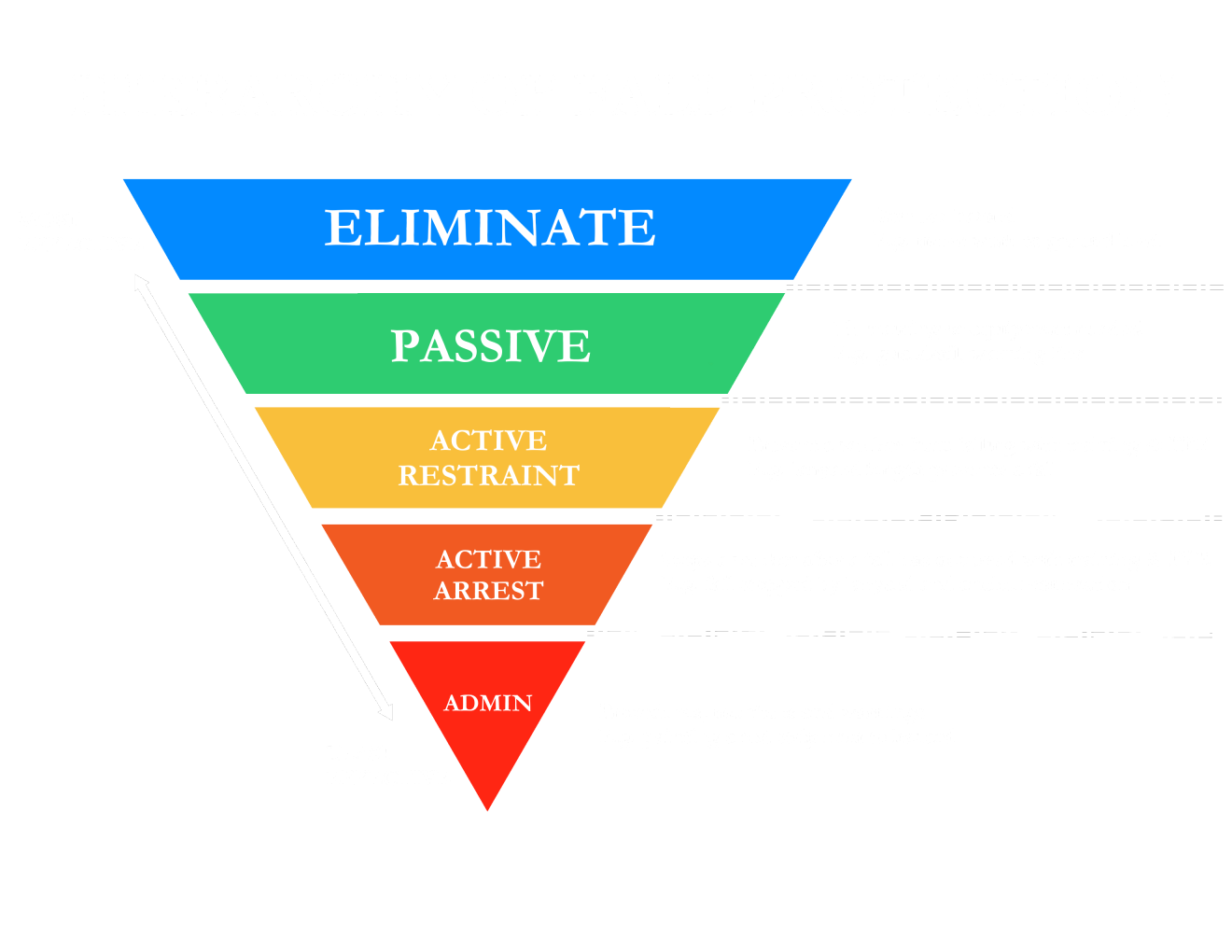 ---
Some of our common suppliers
---
About Us
As a BC fall protection service company we help you manage the risk of working at heights through on-site and facility fall safety consultation, engineered fall protection system design, worker safety supplies, custom fabrication, upgrades, refurbishment, testing and inspections.
Get In Touch
Kelowna: (250) 470-8810
Surrey: (604) 240-0474